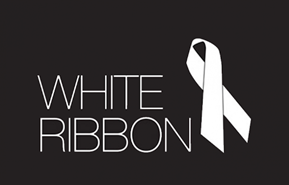 Christ Church White Ribbon Campaign
Christ Church will observe White Ribbon Sunday on December 5th.  This date is selected as it is closest to December 6th, the National Day of Remembrance and Action on Violence against Women.
Mission
​To engage men and boys in the prevention of gender-based violence by promoting equity and transforming social norms. To challenge and support men and boys to realize their potential to be part of the solution in ending all forms of gender-based violence.
​Vision
A future free from gender-based violence.
About
White Ribbon is the world's largest movement of men and boys working to end violence against women and girls, promote gender equity, healthy relationships and a new vision of masculinity. Since its inception in Toronto in 1991, White Ribbon Campaign initiatives have been organized in over 60 countries around the world. Among its many calls to action, White Ribbon asks men to wear white ribbons as a sign of their pledge to never commit, condone or remain silent about all forms of gender-based violence.